Kit Cat Breath Bites Salmon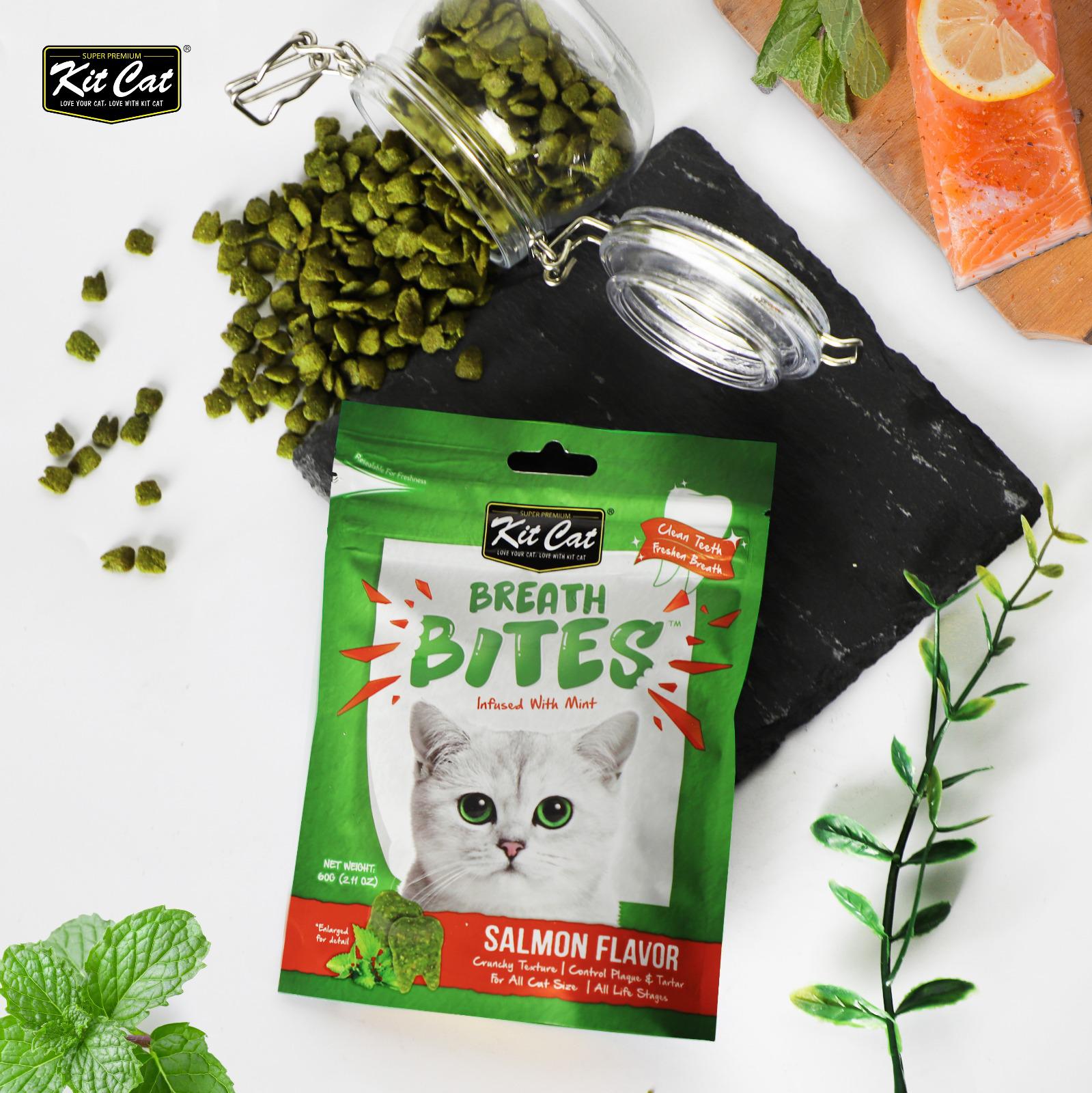 Corn, Corn Gluten Meal, Rice, Fish Meal, Salmon Protein Hydrolysate, Tallow, Poultry Meal, Poultry Fat, Digested Animal Protein, Dicalcium Phosphate, Brewer's Dried Yeast, Salt, Essential Vitamins Supplement (Vitamin A, Vitamin D3, Vitamin E, Vitamin C, Nicotinic Acid, Vitamin B1, Vitamin B6, Pantothenic Acid, Vitamin B2, Vitamin K3, Folic Acid, Biotin, Vitamin B12), Essential Trace Minerals Supplement (Iron, Zinc, Copper, Manganese, Iodine, Selenium), Choline Chloride, Sun Flower Oil, Salmon Oil, Edible Fiber (Cellulose), Potassium Chloride, Taurine, Monosodium Phosphate, Fructo Oligosaccharide, Coloring Agent (Green), Lysine, L-tryptophan, Preservative Agent (Propionic Acid), Flavoring Agent (Mint Flavor).
Calorie Content: 341kcal/100g
These crunchy treats are specially designed to help keep your cat's teeth clean by reducing plaque and tartar when fed daily.

Not Intended For Human Consumption.

Feed 47grams Per 2kg Of Adult Body Weight Per Day.

Feed 104grams Per 2kg Of Kitten Body Weight Per Day.

The Amount Fed Can Be Adjusted According To The Age, Size And Activity Of Your Cat.

Remember To Provide Fresh Water For Your Cat At All Time.
Always Keep Remaining Re-sealed In The Bag After Opening And Avoid Storing Food Under Direct Sunlight.

Kit Cat Breath Bites Is Formulated To Meet The Nutritional Levels Established By Aafco Cat Food Nutrient Profiles For Cats.