Discover your cat's personal euphoria and with these new flavors!
These tuna-based flavors are meticulously blended with masterful precision to ensure that your cat enjoy the same perfect mouthfeel with every bite. Your cat will be sure to love the heavenly tastes and because variety is the spice of life, the wide selection of flavors will keep him interested & you can feel good about spoiling your kitty.
KIT CAT wet food is a naturally formulated diet for kittens and cats of all life stages.
The essential vitamins and nutrients help to keep felines eyesight healthy, prevent urinary tract infection and reduce the risk of kidney stones.
To ensure the highest Human Grade Quality, Kit Cat is manufactured in a Human Consumption Manufacturing plant for our affection towards all felines.
Fresh Caught Tuna, Water Sufficient For Processing, Gelling and Thickening Agents, Imitation Crab Meat, Taurine.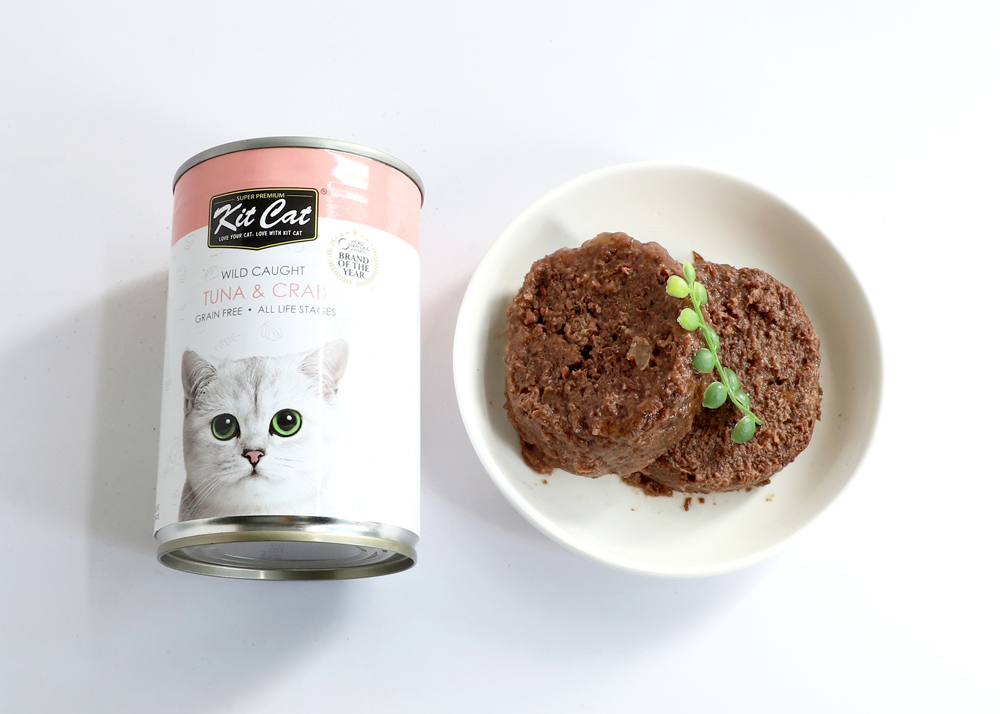 Crude Protein(min.) 9.0%
Crude Fat(min.) 0.5%
Crude Fiber(max.) 1.0%
Crude Ash(max.) 1.0%
Moisture(max.) 88.0%
Energy 35 kcal/100g
Calories – 45 Kcal Per 100g
To be served at room temperature or warmed. Fresh drinking water should be available at all times.
Kitten (up to 1 year old): Feed up to twice the adult amount daily
Adult (above 1 year old): 1/5 can daily per 2kg of body weight
Pregnant Cats: 1/4 can daily per 2kg of body weight
Lactating Cats: 3/5 can daily per 2kg of body weight
Available In Other Flavours
Kit Cat Atlantic Tuna with Katsuobushi Canned Cat Food

Kit Cat Atlantic Tuna with Whitebait Canned Cat Food

Kit Cat Atlantic Tuna with Prawn Canned Cat Food

Kit Cat Atlantic Tuna with Crab Canned Cat Food

Kit Cat Atlantic Tuna with Mackerel Canned Cat Food

Kit Cat Kitten Mousse Canned Cat Food

Kit Cat Wild Caught Double Fish & Shrimp

Kit Cat Wild Caught Tuna & Chicken

Kit Cat Wild Caught Tuna & Anchovy

Kit Cat Wild Caught Tuna & Salmon

Kit Cat Wild Caught Sardine & Chicken

Kit Cat Wild Caught Sardine & WhiteBait