Kit Cat Cranberry Crisps Seafood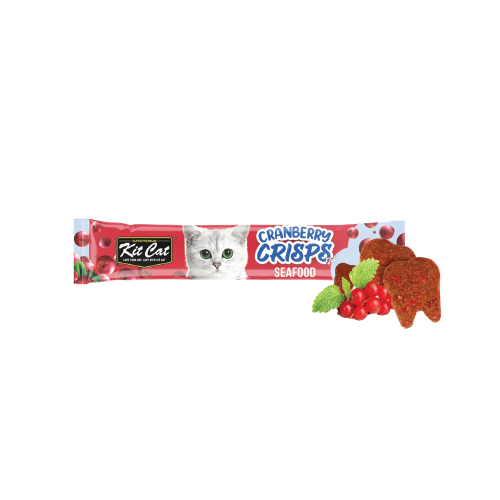 Corn, Rice, Corn Gluten Meal, Fish Meal, Poultry Meal, Salmon Hydrolysate, Tallow, Poultry Fat, Digested Animal Protein, Dicalcium Phosphate, Brewer Dried Yeast, Salt, Choline Chloride, Monosodium Phosphate, Sun Flower Oil, Salmon Oil, Vitamins And Minerals, Edible Fiber (Cellulose), Potassium Chloride, Taurine, Seafood Flavour, Fructo-Oligosaccharide (FOS), L-Lysine, L-Tryptophan, Cranberry Extract Powder, Coloring Agent (Red), Preservative Agent (Propionic Acid), Vitamin C, Vitamin E.
Calorie Content: 341Kcal/ 100g
2kg (Kitten)
104grams/ day
As a snack in between. Always adjust to your cat's diet accordingly. Ensure that fresh drinking water is available at all times. Always monitor your pet while feeding. Use within one day of opening. This product may naturally change in colour after opening.
Avoid storing food under sunlight.