Kit Cat Petite Pouch Chicken & Saba in Aspic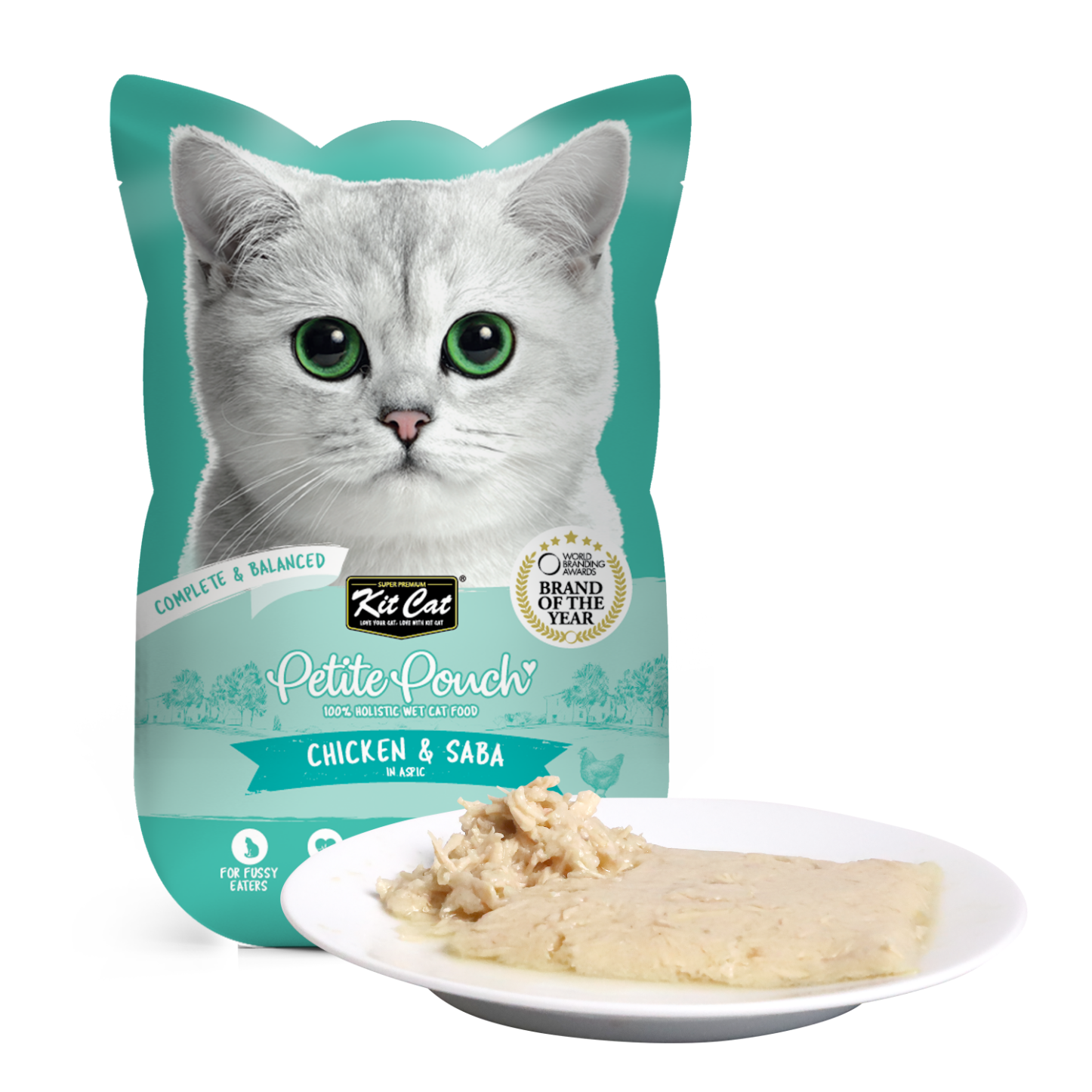 Water, Chicken Breast Flake, Saba, Soybean Oil, Gelling Agent, Dicalcium Phosphate, Vitamins, Minerals, Tuna Extract, Sodium Chloride, Potassium Chloride, Taurine, Choline Chloride, Fructo Oligosaccharide
Calorie Content: 47kcal/100g
2.0 - 3.0kg
32-409g/ 5-6 pouches /day
3.0- 4.0kg
409-485g/ 6-7 pouches /day
4.0 - 5.0kg
485-562g/ 7-8 pouches /day
The amount fed can be adjusted according to your cat activity level. Feed your cat by dividing all daily meals into 2 or more servings.
Kit Cat Petite Wet Food is formulated to meet all the nutritional levels established by AAFCO Cat Food Nutrient Profiles. This certifies that Kit Cat Petite Pouch is a nutritionally complete product that can be fed to your cat as its sole ration without adding any other substance except water.
To be served at room temperature. Fresh drinking water should be available at all times. Refrigerate and feed within 2 days after opening.
Available In Other Flavours
Kit Cat Petite Pouch Complete & Balanced Kitten Tuna in Aspic

Kit Cat Petite Pouch Complete & Balanced Classic Tuna in Aspic

Kit Cat Petite Pouch Complete & Balanced Tuna & Beef in Aspic

Kit Cat Petite Pouch Complete & Balanced Tuna & Salmon in Aspic

Kit Cat Petite Pouch Complete & Balanced Tuna & Saba in Aspic

Kit Cat Petite Pouch Complete & Balanced Tuna & Whitefish in Aspic

Kit Cat Petite Pouch Complete & Balanced Tuna & Chicken in Aspic

Kit Cat Petite Pouch Complete & Balanced Kitten Chicken in Aspic

Kit Cat Petite Pouch Complete & Balanced Classic Chicken in Aspic

Kit Cat Petite Pouch Complete & Balanced Chicken & Beef in Aspic

Kit Cat Petite Pouch Complete & Balanced Chicken & Salmon in Aspic

Kit Cat Petite Pouch Complete & Balanced Chicken & Saba in Aspic